Posts for: February, 2019
By Michael H. Collins, DDS, PA
February 19, 2019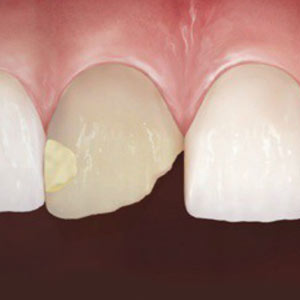 We've been treating one of your decay-prone teeth for some time with one filling after another. Each incident required a little more removal of decayed tooth material until now there isn't enough structure to support another filling.
We could remove the tooth and replace it with a bridge or a dental implant, both viable restoration options. But keeping the tooth if possible would be more beneficial in the long-run for your gums, bone and remaining teeth. If it still has a healthy and stable root, it's possible to permanently cover or "cap" the tooth with a life-like crown.
Crowns have been used for decades: the first were mainly composed of metal like gold or silver and later dental porcelain, a ceramic material that could be molded, shaped and oven-fired to resemble a real tooth. The earliest porcelains, though, were brittle, so a hybrid with a metal interior for strength and a fused exterior porcelain layer for appearance came into prominence.
Today, advances in materials have led to all-porcelain crowns strong enough to withstand biting forces. While the metal-porcelain hybrid still account for about 40% of crowns installed annually, the all-porcelain types are steadily growing in popularity.
Regardless of the type, though, the process for fitting any crown is relatively the same. The first step is to reshape the affected tooth so that the future crown will fit over it, followed by an impression mold of the tooth a dental technician will use to form a custom crown. Once the new crown has been prepared, we then permanently bond it to the tooth.
With a crown, you'll be able to enjoy normal function and have a tooth that looks as healthy and normal as its neighbors. Be aware, though, that your underlying tooth is still subject to decay — so diligent, daily hygiene and regular dental visits are a must. With proper care your newly crowned tooth can continue to serve you and your smile for many years to come.
If you would like more information on dental restoration options, please contact us or schedule an appointment for a consultation. You can also learn more about this topic by reading the Dear Doctor magazine article "Crowns & Bridgework."
By Michael H. Collins, DDS, PA
February 09, 2019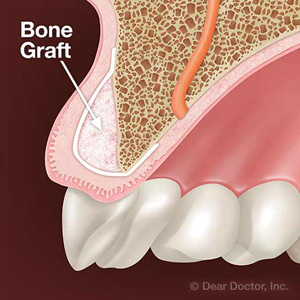 Dental implant technology has advanced at such an astounding rate in recent years that you can now walk into a dentist's office with a problem tooth and out the same day with a new one. Unfortunately, not all dental situations allow for this possibility.
For example, you might be considering an implant many years after losing a tooth. But there's a potential problem: there might not be enough supporting bone. While an implant might still be possible, inadequate bone complicates the matter.
Because implants are essentially tooth root replacements, they require a certain amount of bone for stability and the best attractive outcome. As a general rule, implants need to be surrounded by  at least 1.5-2.0 millimeters of healthy bone to support an implant. But you might not have enough if your tooth has been missing for awhile, regardless if you have or haven't worn dentures or other restorations.
That's because bone has a life cycle in which older cells die and newer ones form to take their place. As we chew or bite, the force generated travels up through the teeth to the bone to stimulate this new growth. Without a tooth the bone doesn't receive this stimulus, which can slow the growth rate. Over time the affected bone can lose its volume and density.
If we find you've experienced loss to the point your bone won't support an implant, that doesn't automatically mean this popular restoration is out of the picture. But it will require us first performing a procedure known as augmentation or bone grafting to help rejuvenate some of the lost bone.
With grafting, we place processed bone grafting material in the jaw through a minor surgical procedure to form a scaffold for new bone to grow upon. After several months this can result in several millimeters of new growth maintaining the width of the underlying bone, which in turn may be able to support an implant.
Bone grafting is quite common, often performed at the same time as tooth extraction if there's going to be a time lag before installing an implant. Even if performed later, though, it can successfully rejuvenate lost bone and make it possible for you to take advantage of durable, life-like implants.
If you would like more information on dental implants, please contact us or schedule an appointment for a consultation. You can also learn more about this topic by reading the Dear Doctor magazine article "Dental Implants after Previous Tooth Loss."